HughesTech Labs:
Setting Up the AT&T U-verse RG (Residential Gateway) 3800HGV-B (2WIRE) with Static IP Addresses. Login to the RG using any web browser at 192.168.1.254
If AT&T Supplied you with a block of Static IP Addresses, then you want to navigate to Settings>Broadband>Link Configuration
You must be logged in using a password, the default password is located on the bottom of the RG unit. 
In our case we were assigned by AT&T a block of 64 Static IP Addresses. Our Engineers set the Upstream MTU to 1492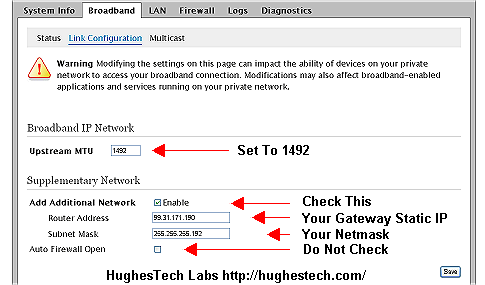 Set your Gateway Static IP Address (AT&T Provided) and the Net-mask AT&T provided. Do Not Enable the Auto Firewall Open!
Before you click the save button, make sure your servers and client machines have all been set with a static IP address from the block that AT&T provided and are connected via a Ethernet switch or hub to one of the LAN ports on the back of the U-verse RG unit.
Here is the secret to getting the RG unit to detect each machine (Computer/Server) with a Static IP.  Our Engineers found that the RG unit would take hours or days to detect the different machines.
Simply click the save button on the Link Configuration page and navigate to Diagnostics>IP Utilities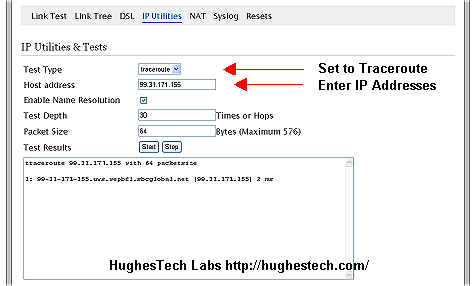 Simply select Trace-route, enter the Static IP Address for the machine/computer you want the RG unit to detect. Next click the start button, once the reverse look-up displays, click the stop button. You must repeat this for all Static IP Addresses that you assigned.
We know this is a pain, but still better than waiting hours or days for the RG to detect your machines/computers on your LAN.
Now that you have detected all your Computers, servers etc., we will show you how to let the Internet community see your web servers etc.
We have Linux servers on our LAN and we set the MTU on all servers to 1480, just seems to work better with the RG unit.
Firewall settings for our system, you may select something different (use at your own risk).We found that the following settings on the RG unit worked best for our Internet servers:
Navigate to Firewall>Advance Configuration
Uncheck Stealth Mode, Uncheck Block Ping and Uncheck Strict UDP Session Control
Next we unchecked the following:
Excessive Session Detection
TCP/UDP Port Scan
Invalid Source/Destination IP address
Packet Flood (SYN/UDP/ICMP/Other)
Invalid TCP Flag Attacks (NULL/XMAS/Other)
Invalid ICMP Detection
Miscellaneous
Next click the save button. (Again use at your own risk)
Last and final phase, navigate to LAN>IP Address Allocation
scroll down the page, you will now see all your Machines/Computers listed, to give each machine full access to the Internet, you will need to do the following:
Device: unknown0010E00233EC
| | |
| --- | --- |
| Current Address | 99.31.171.155 |
| Device Status | Connected Static IP |
| Firewall | |
| Address Assignment | |
| WAN IP Mapping | |
You need to disable the firewall so that your  severs will work like a normal ISP:
Device: unknown0010E00233EC
| | |
| --- | --- |
| Current Address | 99.31.171.155 |
| Device Status | Connected Static IP |
| Firewall | |
| Address Assignment | |
| WAN IP Mapping | |
Now click the save button, repeat these steps with all machines….
That's it, your servers/computers now have full Internet access, make sure you have DNS entries for all machines.
Disclaimer:
HughesTech Labs (Hughes Technologies, Inc.) accepts no liability for the content of this blog, or for the consequences of any actions taken on the basis of the information provided within said blog. The information provided was results from our internal testing and found to work best for our current configuration.
AT&T is registered Trademark AT&T INTELLECTUAL PROPERTY II, L.P. COMPOSED OF AT&T INTELLECTUAL PROPERTY, INC. LIMITED PARTNERSHIP NEVADA 645 EAST PLUMB LANE RENO NEVADA 89502

AT&T U-VERSE is a registered Trademark of AT&T INTELLECTUAL PROPERTY II, L.P. AT&T INTELLECTUAL PROPERTY, INC., a Delaware Corporation LIMITED PARTNERSHIP NEVADA 645 EAST PLUMB LANE RENO NEVADA 89502
2WIRE is a registered Trademark of 2WIRE, INC. CORPORATION DELAWARE 1704 Automation Parkway San Jose CALIFORNIA 95131